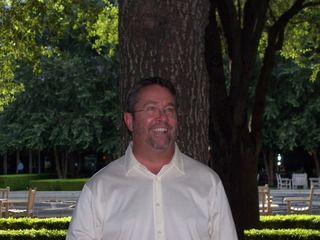 Twenty-nine years ago today I married my best friend and love of my life. I met him at a church function when I was 17 and he was 18. Casual friendship turned into best friends. After 4 years, best friends turned into husband & wife. We had a big church wedding on Saturday, June 21st at 5:00pm. It was a wonderful wedding. It was an anointed wedding. God's presence was there in a special way. We sensed the smile of God.
After a 5:00pm wedding, we had to be at the airport by 8:30 to catch our flight to Los Angeles, CA. We spent 7 glorious days on Malibu Beach in a condominium that one of our friends' dad owned. Free of charge! We were in a dream world and didn't want to come home, except for the fact that we had a cute little apartment in north Arlington and a bunch of gifts that we hadn't unwrapped yet!
Our marriage is and always has been a precious gift from God to me. When I was 16 years old God gave me a promise that He would give me someone far beyond my imaginations and expectations. Someone who loved Him more than life itself. Someone who would obey Him quickly and without question and would follow Him anywhere. God kept His promise. Gary is more than I could ever ask for. He is a man of integrity and man full of fiery love for His bridegroom, Yeshua. That's what drew me to him 33 years ago, and it still draws me to him today. He is a father that our kids can be proud of. He always put the kids over ministry or job. Time spent hanging out with them was the goal of his life, and they knew it. He loves them more than life itself. And he loves me more than life itself. It's obvious by his unselfish actions.
I love you to the sky, honey. You really do rock my world! I love being married to you. You bring joy and excitement to my life. Happy Anniversary!!!
We went out to eat last night at a restaurant in the King David Hotel called the King's Garden.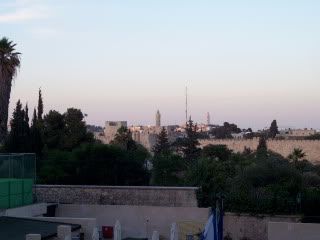 This is the view of the Old City of Jerusalem from our table.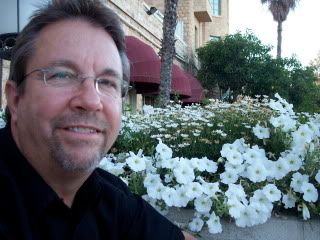 We had such a relaxing and enjoyable time!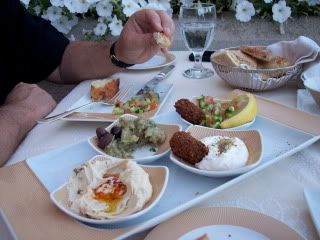 Our appetizer was "A Taste of Jerusalem". (As if we haven't had enough of this stuff already!)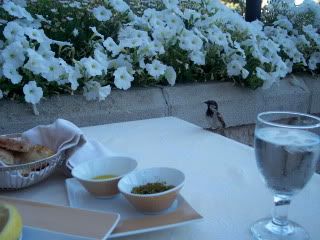 We had a curious visitor who had an eye on our bread basket!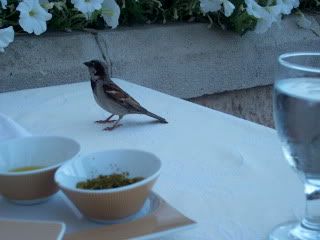 He gets bolder!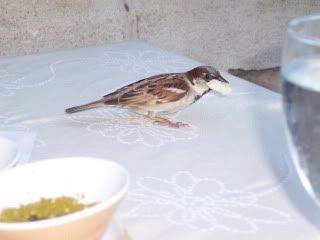 He was GOING to get a piece of bread! So Gary had mercy on him. He almost took it right out of his hand!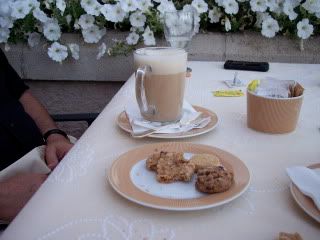 We ordered cafe lattes and the cookies came free. Yum. A wonderful end to a wonderful evening!