That's what this post is about, but not necessarily in that order. This week is shaping up to be a hot one here in Jerusalem. Today was 93. Tomorrow and the next day will probably be around 96 or higher. Now I know what you're thinking. 96 degrees? In August? That's not too bad! (I know my Cpyriot friends are laughing right now, because it gets so much hotter in Cyprus & they don't have A/Cs either.) Well, I didn't used to think 96 was too bad either until I moved here where air conditioners are not the norm. We don't have shades on all our windows, so our apartment gets very toasty. You can always tell it's going to be a hot day when you start to sweat at 8:00 am, and you look outside at the trees and see no breeze whatsoever. We know that it's probably going to be a day for.....ta da! Our gift from heaven that we found in the upstairs bathroom shortly after we moved in.
Yes, people, it's our own portable air conditioner! Gary and Preston lugged it all downstairs and we plug it in when we can't handle it any longer. What a blessing! We sit in the cool and just smile!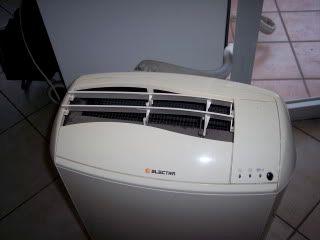 As you can tell, part of it sits outside. I guess it's like a compressor connected by a huge umbilical cord.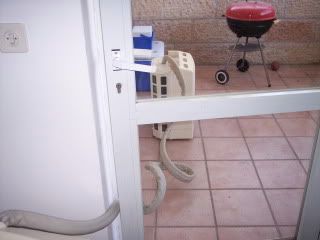 The down side is that we have to leave our door open a little to allow for the cord, but we're so grateful for cool air. Here's what it looks like from out on the porch.
Part of our nightly ritual is closing the windows and shades on the east side of our apartment. The sun comes up over the mountains of Moab around 5:30 (on a clear day we can see Mt. Nebo), so by the time I get up at 6:30 it's already pretty warm. This is what our living room looks like during the daylight hours: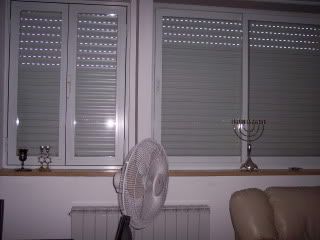 Most days are just fan days. If we keep the sun out and the windows closed, fans are all we need. But on days like today, we bring in the big gun. And we're sooo grateful for it.
Ok, here's something else I'm grateful for: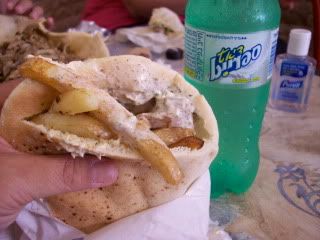 Ken (Hebrew for "yes"), you guessed it. Falafels, diet Sprites, and hand sanitizer! I normally don't get "chips" on my falafels, but on this day I told them to put a few on just for the picture. Then I promptly took them off. Way too much fat. (As if falafels don't have too much fat!) Now this is something else I'm grateful for: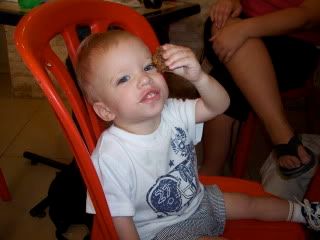 Judah Reign ate his first falafel ball here in Jerusalem! He really liked it, too! He doesn't have much of a chance really, because his mom and his Gigi like them so much. Way to go Judah boy! Isn't he amazing?! It really was fun having him and Shiloh and their moms with us for the last two weeks. Was I just dreaming? Nope, I have a baby spoon and a toy here to prove that they really were here. We had the time of our lives!